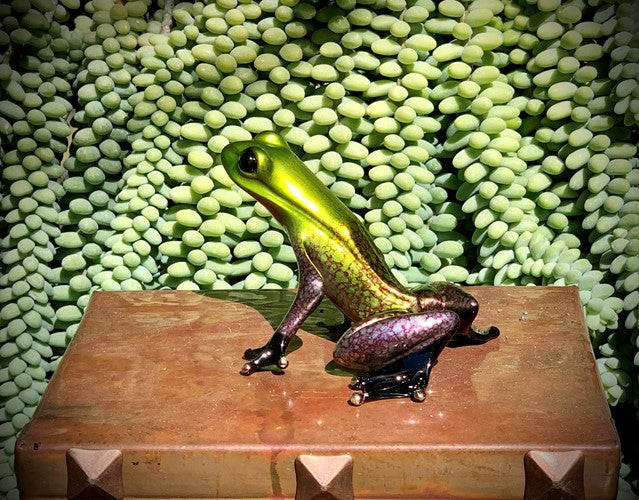 Tim Cotterill
Mirari - Frogman Tim Cotterill
Mirari
In stock for immediate shipment
Please call for availability. 905 407 2066
Mirari: from the Latin - to marvel at - to admire - to be amazed.
 True to its name, this inquisitive frog with an elongated neck and analytical demeanor has clearly detected an object of interest.
 Mirari, bearing a vivid green patina,
randomly textured with a contrasting violet-toned crackle,
joins the pond in time for holiday gifting - or getting!
Signed Limited Edition Bronze

Sculpture Size: 3.75" x 4" x 3"
BF 258

Edition Size 150
The Bronze Frog Gallery represents FROGMAN, TIM COTTERILL in Canada through selected retail galleries.
For more information please contact Kathy@bronzefroggallery.com 
or call 905 407 2066
May also be available: 
ART LOVERS GALLERY (Delta Hotel Lobby)
https://www.artlovers.ca
dj@artlovers.ca
1310 Water Street 
Kelowna, BC, Canada V1Y 9P3 
778.215.3614
TOWNE SQUARE GALLERY
https://www.townesquaregallery.com
contact@townesquaregallery.com
94 George Street
Downtown Oakville, Ontario, Canada L6J 3B7
905.618.0277
For information on any of Tim's sculptures, please email info@bronzefroggallery.com or call 905 407 2066

Are you a gallery owner, interested in selling Tim Cotterill's wonderful sculptures? Please contact info@bronzefroggallery.com or call 905 407 2066
---
Share this Product
Contact us about this product
---
More from this collection