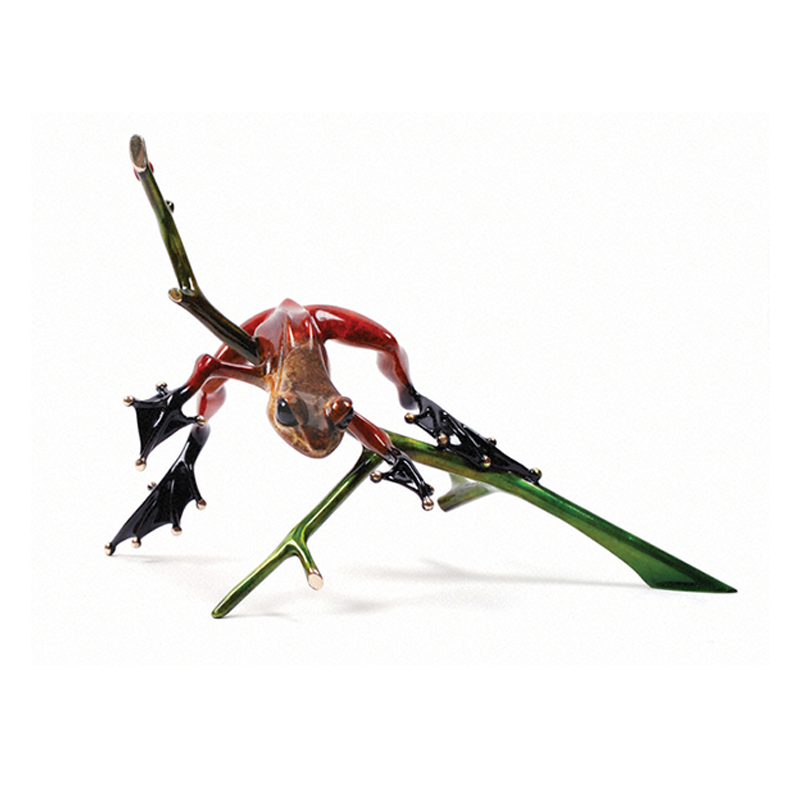 Tim Cotterill
Out on a Limb
"Out on the Limb" displays the Frogman's sculptural talent in the linear grace of an asymmetrical composition. An elegant climbing frog is poised over a cragged branch. The frog is finished in a richly textured patina in variations of gold and red hues. Frogman's signature ladybug hides atop the green branch; this time it's out of the frog's sight, so perhaps it will be the one that gets away...
Signed Limited Edition Bronze
Year Released: 2008
Sculpture Size: 7 X 10.25 X 5.75 in.
Edition Size: 2000
BF 112

 The Bronze Frog Gallery represents FROGMAN, TIM COTTERILL in Canada through selected retail galleries.
ART LOVERS GALLERY (Delta Hotel Lobby)
https://www.artlovers.ca
dj@artlovers.ca
1310 Water Street 
Kelowna, BC, Canada V1Y 9P3 
778.215.3614
TOWNE SQUARE GALLERY
https://www.townesquaregallery.com
contact@townesquaregallery.com
94 George Street
Downtown Oakville, Ontario, Canada L6J 3B7 
905.618.0277
For information on any of Tim's sculptures, please email info@bronzefroggallery.com or call 905 407 2066
Are you a gallery owner, interested in selling Tim Cotterill's wonderful sculptures, please contact info@bronzefroggallery.com or call 905 407 2066
---
Share this Product
Contact us about this product
---
More from this collection