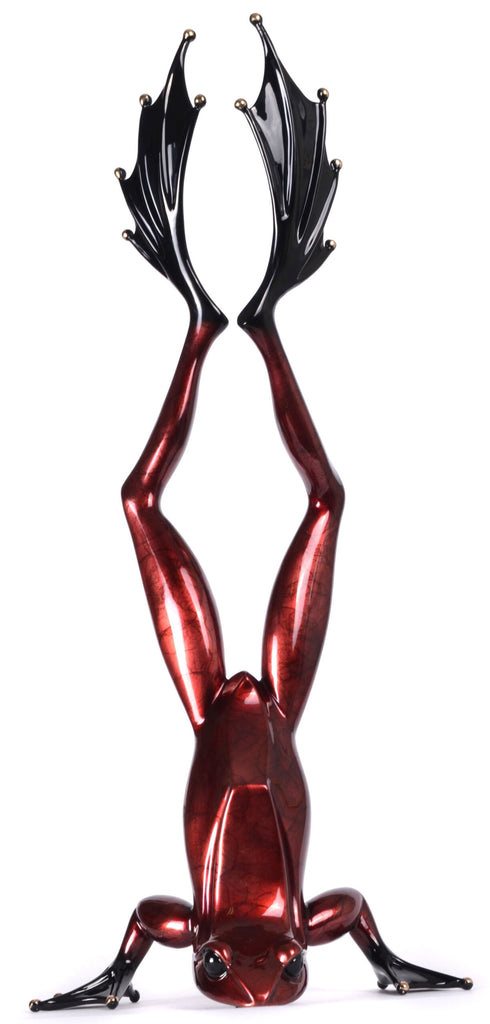 Tim Cotterill
Syrah
 Syrah - Frogman - Tim Cotterill
Not all sculptures are in** stock.  Each sculpture can be ordered however be aware there is a lead time to obtain the piece.  Thank you  Kathy...905 407 2066 or kathy@bronzefroggallery.com
Syrah
Quite the exhibitionist, the persistently inverted "Syrah" stakes out his position as the guardian of the FROGMAN pond. Sporting a bold silver nitrate burgundy-toned patina with a radiant silver underbelly, this powerful amphibian is clearly suited to its name. 
Welcome to the pond, "Syrah!" Bottoms Up!!!
Signed Limited Edition Bronze

Sculpture Size: 8.5 X 18.5 X 4.75 in.
BF 271

The Bronze Frog Gallery represents FROGMAN, TIM COTTERILL in Canada through selected retail galleries.
TOWNE SQUARE GALLERY
https://www.townesquaregallery.com
contact@townesquaregallery.com
94 George Street
Downtown Oakville, Ontario, Canada L6J 3B7
905.618.0277
For information on any of Tim's sculptures, please email info@bronzefroggallery.com or call 905 407 2066
Are you a gallery owner, interested in selling Tim Cotterill's wonderful sculptures, please contact info@bronzefroggallery.com or call 905 407 2066
---
Share this Product
Contact us about this product
---
More from this collection